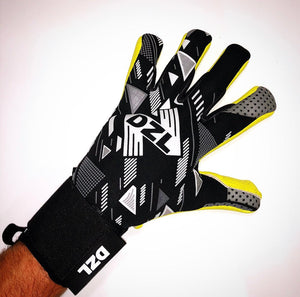 The NegEvo Neon Glove
The NegEvo Neon Goalkeeper Glove features a Injected German Quartz Grip Latex palm for optimum grip and security in all conditions. The Goalkeeping glove is constructed with a Full Neoprene body which offers a lightweight, dry and comfortable feel. A double elasticated wrist ensures maximum support and security when in use. The glove features a evolutionary negatively stitched roll finger, flat palm design which again offers the BEST comfort and feel when in action. This ensures a super thin and true feel when handling the ball without compromising on grip or hand to ball contact.
In all this brand new glove is brimming with quality features and will stand up to the task in any situation it is needed!
FEATURES
- 4mm Injected German Quartz Latex Palm
- Hybrid Evolution Cut
- Double Elasticted strap
- Lightweight glove body for greater comfort and feel
- Stunning Abstract Silicone backhand
- Wrapped thumb
---